According to the American College of Prosthodontists, about 178 million Americans are missing one or more teeth. Having a gap where teeth used to be is more than just an aesthetic problem. With missing teeth, you can suffer additional tooth loss, shifting of remaining teeth, and weakening of the jawbone.
Dental implants are a popular way to replace missing teeth and restore your smile. More importantly, getting implants can help you avoid serious dental problems later.
What Are Dental Implants?
Dental implants are prosthetics that a dentist surgically attaches to the jawbone to hold dental restorations in place. An implant has a titanium (sometimes ceramic) screw resembling a root, which has a specialized surface that the bone fuses with over a 3-4 month healing time. This intimate connection between the dental implant and the bone is referred to as osseointegration. Once osseointegration is established, a dental restoration can be fabricated using a connector or abutment that holds the artificial tooth, bridge, or crown in place.
Although only 6% of people in the United States have implants, experts estimate that figure to grow to 23% by 2026. You also might not know dental implants can last a lifetime with proper care. However, the crown, bridge, or dentures on top may need replacement every 7-15 years. Those numbers can vary greatly depending on the technician, doctor and choice of materials selected for the dental restoration.
Different Types of Dental Implants
Patients considering dental implants should consult their dentist about the different dental implant types, including their pros and cons. The type of implant a dentist recommends depends on factors such as the number of missing teeth and the causes of tooth loss.
Endosteal Implant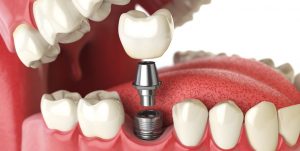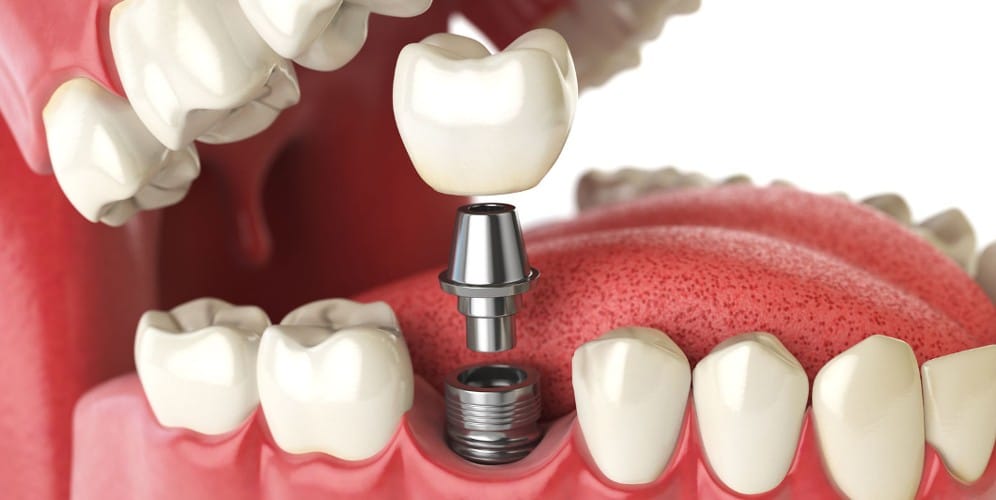 Endosteal implants are the most common type, usually consisting of small, threaded titanium posts screwing into the jawbone – these are commonly termed "root form implants". The new tooth (crown or bridge) attaches to the top part of the implant by way of a connector or abutment. Dental implants are commonly referred to a singular item when in fact they are three items: implant, abutment and crown or bridge (dental restoration). Some dentists are able to provide all the three services to complete a tooth replacement in one office while some other dentists prefer to refer to a specialist for the surgical or restorative aspects of the dental implant replacement. Endosteal implants are suitable for patients with removable dentures, missing teeth replacement, or as replacement for bridges. To be a viable candidate for endosteal implants, a patient must have good oral health and enough healthy gum tissue and jawbone.
Subperiosteal Implant
Subperiosteal implants may be ideal for patients without enough healthy jawbones to support endosteal implants. The dentist places this implant on top of the jawbone and under the gum, adequately holding it in place. This can be a wonderful service for some patients but it requires a very specialized lab working closely with a dental surgeon. Unfortunately, there are few of these teams left offering this service.
People who cannot wear traditional dentures might find subperiosteal implants ideal. However, as with endosteal implants, these implants are not suitable for people with poor dental health. Also, a patient still needs enough jawbone for this type of implant to be viable.
Mini Dental Implant
Mini dental implants are ideal for patients unable to get the traditional kind. While conventional implant screws consist of two pieces up to 5 mm in diameter, mini dental implants use only one screw that has a diameter of 3 mm or less. Some patients opt for these implants because they are less surgically invasive, and do not require as much jaw bone width. Typically, more mini dental implants are necessary to support a dental restoration vs. traditional root form dental implants. Additionally, mini dental implants are much more restrictive when it comes to a final dental restoration. They are typically reserved for supporting dentures and not crowns or bridges.
However, mini dental implants would not be ideal for patients wanting a permanent solution because they are only temporary. Also, they are not recommended for all types of tooth loss.
Zirconia Implant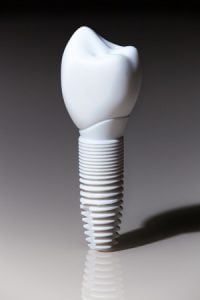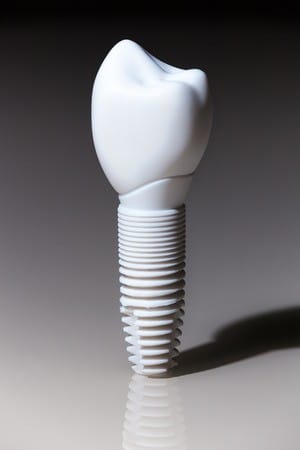 Dentists began using Zirconia implants in the United States in 2007. Like titanium, Zirconia is biocompatible with the natural bone and gum tissue. This means the bone can grow around the implant forming a rigid connection with the body – known as osseointegration. Once integrated in 3-4 months, the implant is restored with a dental restoration such as a crown, bridge, or implant retained denture (full arch restoration).
While most titanium implants have two parts, most Zirconia implant have only one, giving dentists less control when placing them. There are some two-piece zirconia implants on the market, but they have not yet passed the test of time regarding durability. Another potential disadvantage of these implants is the cost per implant. Also, additional expenses are associated with materials, the procedure, mapping, and aftercare check-ups, bringing the per-implant cost to between $3,000 and $7,000. Many factors need to be considered to get an accurate estimation of fees, please consult a dental team to discuss your particular needs.
Zygomatic Implant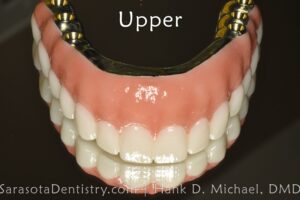 Zygomatic implants get their name from the cheekbone, into which the dentist inserts them. These implants only replace the teeth in the upper jaw, which can includes an entire upper arch of teeth.
Dentists can usually place zygomatic implants immediately. This type of implant can be an alternative for patients with insufficient jawbones or individuals who have had unsuccessful attempts at traditional implants or the bone grafts they often require. People with tooth loss in the lower jaw must explore additional tooth implant options such as subperiosteal implants or a ridge augmentation with bone grafting.
Same-Day Implant
Most patients who receive traditional dental implants usually have to go through months of visits and procedures. This wait typically includes getting temporary crowns while waiting for the permanent ones that come with the implants. In contrast, same-day dental implants are placed immediately after tooth extraction. It still constitutes an immediate implant if it goes in up to two weeks afterward.
Patients getting same-day or immediate dental implants undergo a single surgery, which means less pain and a much shorter recovery. Also, same-day dental implants can preserve gum tissue and bone, which may resulting in an enhanced esthetic result. In some cases, immediate dental implants can be restored with temporary crowns or bridges. While in other cases, they must be allowed to heal for 3-4 months prior to fabrication of a final dental restoration. It all depends on the patient specific factors and the stability of the dental implant upon insertion.
Patients trying to avoid multiple dental visits, wearing traditional dentures, or having a drawn-out recovery might opt for all-on-4 or full-arch immediate implants. As the name implies, all-on-4 implants consist of four dental implants supporting a full arch of teeth. Another term commonly used is all-on-X where "X" is the number of implants needed to restore the arch. The immediate teeth are usually acrylic teeth such as a denture or computer designed acrylic PMMA material. Either way, a strict soft food diet must be maintained for 3 months following immediately loaded all-on-4 implants. After healing, a final full arch implant restoration is fabricated. The final restoration can be made of either metal reinforced acrylic or porcelain. Porcelain is generally more durable than acrylic if done correctly.
All-on-4 implants can replace upper teeth, lower teeth, or both. Implantation requires a minor surgery, which involves inserting a small titanium screw to which the dentist attaches a denture or bridge. Patients needing between six and 10 implants or additional bone grafting after extraction should consider other options such as ridge augmentation and second stage implant surgery.
Blade Implant
Blade implants were among the first types used in North America, but dentists rarely recommend them today. To place blade implants, a dentist creates a tunnel(slot) in the bone, into which they press the blade, with the support or prong for the crown sticking out.
Blade implants are strong and hold well under stress. They provide the most function in the back of the mouth, which requires significant biting and chewing. However, other implants are more advantageous because they are root-based. Also, the failure rate for blade implants is higher when the dentist lacks adequate experience and knowledge of ideal candidates for the procedure.
Dental Implant Considerations
Regardless of which type of implant a patient chooses, they should expect some discomfort, swelling, bleeding, and bruising after the procedure. A dentist can prescribe pain medication to help make the patient more comfortable during recovery. Also, sedation dentistry is usually well accepted for dental implant procedures.
With proper dental hygiene and care, dental implants can last a lifetime. Healthy habits like flossing and twice-daily brushing can preserve their look and survival rate. Follow-up visits with a general dentist or periodontist can contribute to recovery and help address complications early.
Latest posts by Dr. Hank Michael DMD
(see all)