Your Porcelain Veneers Experts in Sarasota
Sarasota Dentistry creates beautiful and natural-looking porcelain veneers, customized to each patient's desired look – from straight and white to stained and discolored. The patient has complete control over the final results. Veneers are an ultra thin layer of porcelain bonded to the surface of the tooth, designed to cosmetically improve the color, shape, and size of teeth, as well as strengthen the tooth's surface. Not unlike the facade or exterior of a house, veneers are what the world sees when you smile. Dr. Michael and his team of dental experts work with patients to create the smile they want, using the latest in cosmetic dentistry technology.
What are Porcelain Veneers?
Veneers are an ultra thin layer of ceramic porcelain applied to the tooth's surface, designed to improve the look of your teeth by changing the color, size or shape. Veneers can also be used to close gaps between teeth and lengthen or shorten teeth – for a more smooth and even smile. In addition to improving the visual look of teeth, veneers can also improve the strength and resilience of teeth because of how much it replicates natural tooth enamel.
Who are Porcelain Veneers For?
Veneers can be a great cosmetic option for people who have stained teeth but don't respond well to teeth whitening procedures, people who have spaces between teeth that they want filled, those who want to improve the appearance of teeth that are worn, discolored, crooked, chipped, fractured, or people who need a tooth re-positioned to remedy minor bite-related problems. Many people choose veneers in Sarasota simply because they want an improved smile or younger-looking teeth.
What is the Process of Getting Porcelain Veneers?
First, you will meet with Dr. Michael to find out if porcelain veneers are right for you. If it's determined that they are, you will discuss your specific goals and objectives in terms of your desired outcome (how you want your teeth to look). Molds of your teeth will be taken and a diagnostic wax-up of the desired smile will be created on the models – much like a blue print is created to design a building. You will review the wax-up or mach up of your smile with the doctor prior to the actual porcelain veneer preparation. You can easily make changes to the wax-up prior to the procedure. The next step is the porcelain veneer procedure. A small amount of your original tooth enamel may need to be removed to make space for the veneer covering. This will ensure that the veneer will fit comfortably in your mouth and not feel bulky or change your normal tooth function. Most porcelain veneers are made by the dental laboratory and require about 2 weeks to process. During this time, you are wearing a set of acrylic veneers. One week after the temporary veneers are placed, you will return to the dental office for an impression of the approved temporary veneers. If you have any hesitation about the shape, size or color… this is the time to make the doctor aware. He can easily modify or re-make the temporary veneers in a different color prior to proceeding with the final porcelain veneers. Once you are absolutely happy, the impression of approved temporaries is sent to the lab for the final fabrication. The final visit is to have the veneers "installed" or "Seated". They are first seated with try-in paste where you can inspect the final smile prior to the permanent bonding of the seated porcelain veneers. At this point, it is rare that any modifications are necessary and the porcelain veneers are permanently bonded. Resin is used to bond the veneer to the tooth, then hardened and secured with a high-intensity curing light. The excess resin bonding is carefully removed and polished and the final bite is also checked and adjusted if necessary.
Porcelain Veneer Shapes/Styles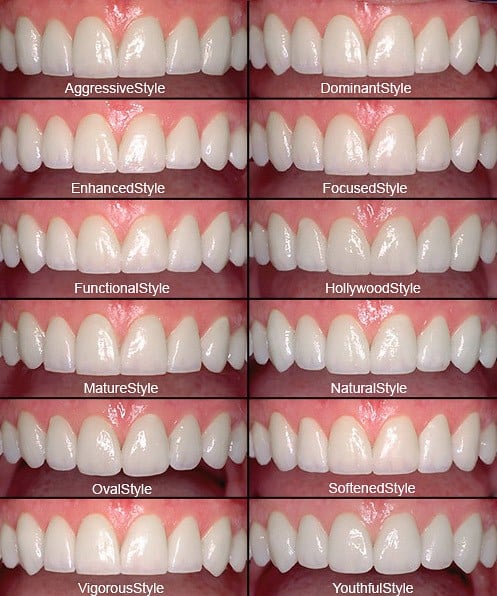 According to the LVI Smile Library*, porcelain veneers can be classified into 12 different styles describing the characteristic smile they wish to portray.
Aggressive–square, round central and lateral incisors with gently curved or semi-straight canines. This is perfect for men as well as women who may want to project a rather strong personality.
Dominant–square, round central incisors, rounded far corner of lateral incisors, and sharply pointed canines; lateral incisors are chipped a little bit higher than the central incisors.
Enhanced–slightly rounded edges of both central and lateral incisors with the lateral incisors slightly higher or shorter than the central incisors to give it a gull-wing appearance; canines are bluntly pointed. This style of smile particularly is one of the most popular styles of porcelain veneers chosen by females those who wish to compete in beauty pageants as well as engage in photo-op sessions where a perfectly looking pearly whites is a must.
Focused–similar to an Enhanced Style unless the central incisors are square without rounded edges.
Functional–similar to an Enhanced Style except the canines are more pointed.
Hollywood–similar to an Aggressive Style but with the lateral incisors slightly offset or shorter from the central incisors. This is one of the most sought after porcelain veneer styles among males as it provides an excellent show of teeth without being overly aggressive.
Mature–similar to an Aggressive Style but with the canines slightly more pointed.
Natural–similar to an Enhanced Style but with the canines more aggressively pointed
Oval–similar to an Aggressive style unless all the incisors and canines take on a more rounded or oval shape.
Softened–similar to an Oval Style but with a less pronounced curvature of the edges of the teeth.
Vigorous–similar to an Aggressive Style unless the canines are more pronounced, is protruding well into the oral cavity like a fang.
Youthful–similar to an Oval Style but with more pronounced and protruding canines like in a Vigorous Style.
*Developed by Dr. William Dickerson of the Las Vegas Institute for Advanced Dental Studies.