Flexible partial dentures are an ideal solution for those who want to replace missing teeth while also enhancing their smiles. Flexible partial dentures can restore the appearance and functionality of real teeth and offer unique features that rival those of traditional dentures. While these restorations can be a good alternative to missing teeth, they still fall short when compared to dental implants.
Table of Contents
Here's more about flexible partial dentures and how to determine whether this dental solution is right for you.
What Are Flexible Partial Dentures?
Flexible partial dentures are dentures made from softer, more flexible materials than traditional dentures. These dentures are designed to look and function like real, natural teeth, and can replace teeth from the same area of the mouth that may have been lost due to an accident, injury, or gum disease. Flexible partial dentures may be removed at any time and are sometimes used for only a short period prior to dental implant surgery.
What Are Flexible Partial Dentures Made Of?
Flexible partial dentures are made with thermoplastic materials such as nylon that are far more flexible than the porcelain, resin, and chrome cobalt metal materials typically used to make traditional dentures. The flexibility of these partial dentures makes them fit much more comfortably. Flexible partials are also much more cosmetically pleasing since they do not have the ugly metal clasps that are generally found on traditional cast chrome partial dentures. Thermoplastic materials can be heated and molded into flexible denture bases that are customized for each patient. The nylon materials used to make flexible partial dentures also look realistic and natural, and can effectively help dentures stay in place without causing discomfort.
Are Flexible Partial Dentures Right for You?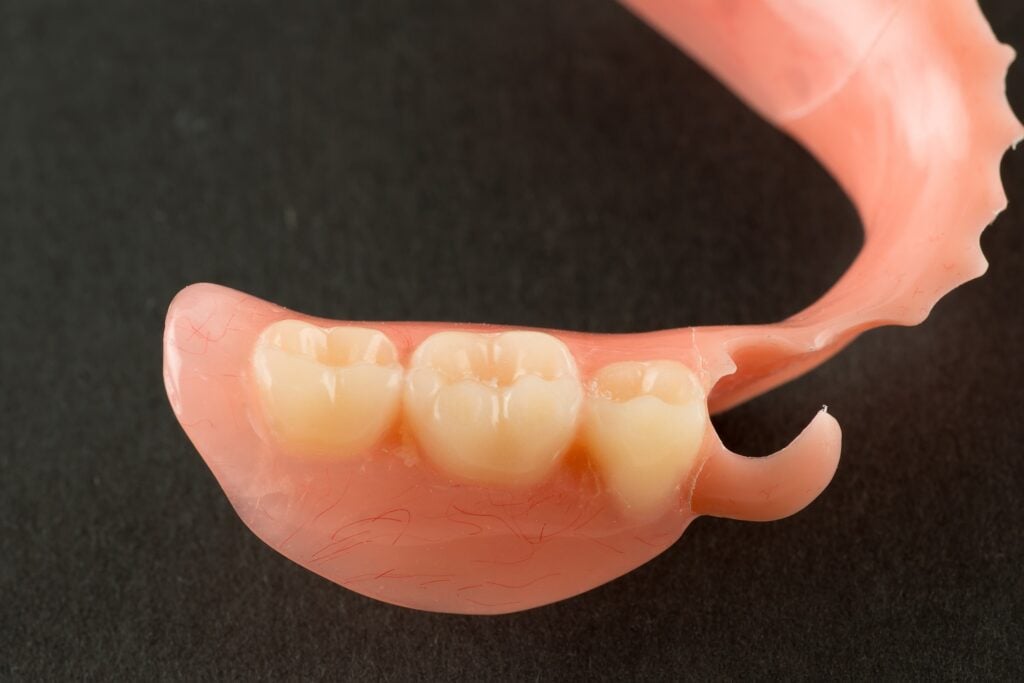 Ideal candidates for flexible partial dentures are those who are missing two or more teeth from the same area of the mouth and who want a more comfortable alternative to traditional dentures. Flexible partial dentures are also ideal for those who want a less invasive treatment than dental implants, or who are allergic to the materials used to make traditional dentures. A review published in the IOSR Journal of Dental and Medical Sciences states that patients with tilted teeth may also benefit more from flexible partial dentures than from traditional dentures due to their easy insertion and flexibility.
Warning: flexible partials dentures are not a good solution if you have loose teeth or teeth with a poor prognosis for success. You can't add teeth to a flexible partial denture. If you or your dentist feels you may lose additional teeth soon, you should consider a traditional acrylic denture which may also be termed "transitional partial denture" or "temporary partial denture". These types of partial can have partial denture teeth added if a natural tooth must be removed. They are not as comfortable but can be more practical iin some cases.
If you are not sure whether flexible partial dentures are right for you, a dentist can perform an evaluation and talk with you in more detail about the pros and cons associated with this treatment option.
How Much Do Flexible Partial Dentures Cost?
The cost of flexible partial dentures will vary from one patient to the next based on factors such as the number of teeth being replaced, the brand of dentures being used, and whether the procedure is being combined with other treatments such as tooth extraction. Your dentist can give you a more accurate estimate of the cost of flexible partial dentures after reviewing your insurance benefits and discussing your available payment options. Quality flexible partials generally cost a bit more than standard partials and the dental team providing the service is critical to ensure you receive a comfortable fitting flexible partial denture.
How Long Do Flexible Partial Dentures Last?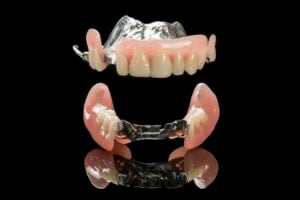 Flexible partial dentures can last for many years with the proper care, and often last longer than traditional dentures due to being made from flexible materials that make them less prone to breakage. Flexible partial dentures should be cleaned daily and soaked in denture cleanser solution overnight to prevent bacteria buildup. Your dentist can recommend other effective ways to care for flexible partial dentures to ensure they last as long as possible.
Pros of Flexible Partial Dentures
There are several advantages and pros to using flexible partial dentures, including durability, a custom fit, and comfort. According to a study published in Contemporary Clinical Dentistry, 100% of the 18 participants with traditional dentures who switched to flexible partial dentures preferred the latter option and said they improved their quality of life.
Flexible partial dentures also look more natural than traditional dentures and cover receded gums to improve the appearance of the gumline. These dentures can be manufactured relatively quickly compared with other tooth replacement options, which makes this treatment appealing to those who need temporary teeth prior to getting dental implants.
Cons of Flexible Partial Dentures
Flexible partial dentures are highly convenient, comfortable, and user-friendly, and come with very few cons. One potential disadvantage to using flexible partial dentures is the need to brush and clean them every day due to possible bacteria buildup. However, traditional dentures must also be cleaned daily to prevent bacteria buildup and to maintain their quality and functionality. The biggest disadvantage is the inability to repair or replace teeth on the flexible partial dentures. In the event you need to have a tooth extracted or a tooth breaks on the partial denture, you need to have a new flexible partial denture fabricated to replace the old one.
Flexible Partial Dentures vs Traditional Dentures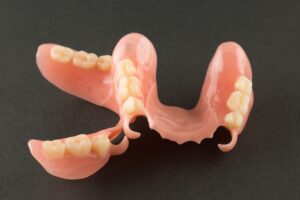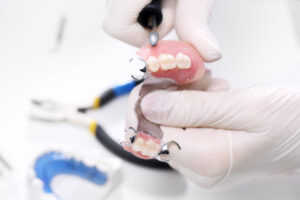 The purpose of dentures is to use functional, real-looking teeth to fill in spaces where two or more natural teeth are missing from the same section of the mouth. The main difference between flexible partial dentures and traditional dentures is that flexible partial dentures are made with a flexible thermoplastic material and fit comfortably in the mouth without requiring metal clasps to keep them secured in place. Traditional dentures are made from rigid materials that are more prone to breaking and consist of a set of teeth attached to a pink acrylic base that is secured to the gums using metal clasps or frames.
Flexible Partial Dentures vs Dental Implants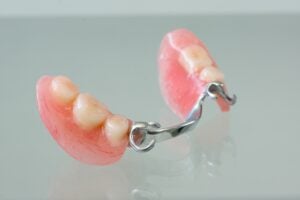 Dental implants are non-removable replacement teeth that are implanted surgically into the jaw and designed to look and function like real, natural teeth. Dental implants can be maintained and cared for with regular brushing and flossing just like real teeth and tend to last longer than dentures. In comparison, flexible partial dentures sit on the gums and must be removed daily for cleaning and maintenance. Dentures may require you to avoid certain foods and drinks to prolong their lifespan but are often far less costly than dental implants and less invasive as they do not involve surgery. While dental implants cost more, they are also more comfortable, more like real teeth, and they help to preserve natural jaw structure for years to come. You cannot say this if you are wearing a partial denture as bone loss continues to occur on the dental ridge with missing teeth. Another alternative that could be considered is an implant-retained partial denture.
Sarasota Dentistry is state-of-the-art facility offering General, Cosmetic and Implant Dentistry in Sarasota, FL. Please call us at 941-929-7645 to schedule a consultation. We can help you make a decision which dental restorative solution is right for you.
Latest posts by Dr. Hank Michael DMD
(see all)